As part of our commitment to continuous professional development, LSC are proudly sponsoring a series of ISPE Ireland Affiliate virtual events in 2021.
The latest webinar coming up on June 16th will focus on "The 4th Industrial Revolution – the evolution of manufacturing" with an incredible line of speakers and presentations – you won't want to miss this! In the run up to the event we caught up with Philip Gammell from Astellas,  the event host to discuss challenges, the impact of Covid-19 and the benefits industry 4.0 will bring to pharma manufacturing.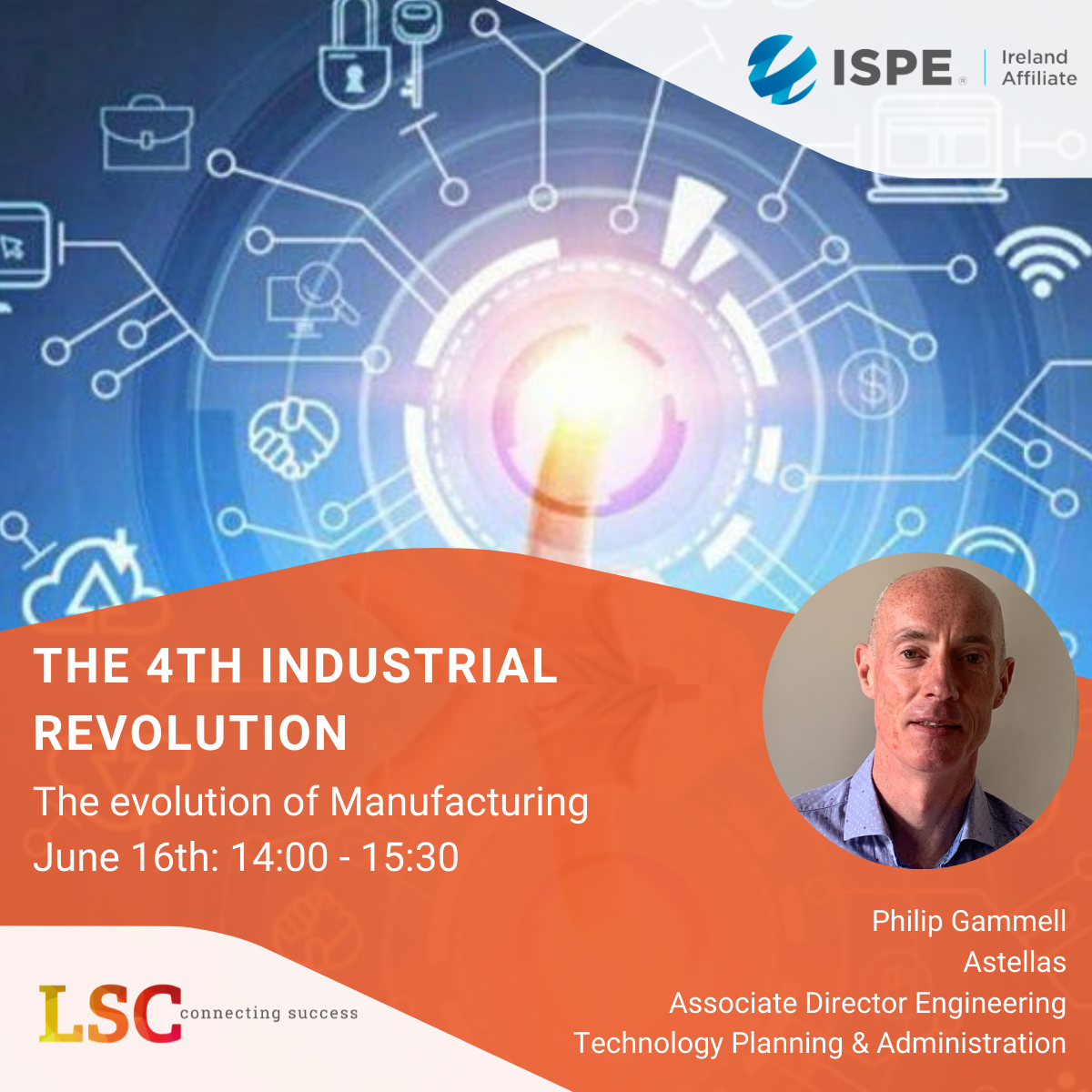 Hi Philip, can you tell us about your own career background?
I'm a Pharmaceutical/Biopharma professional with extensive experience in a range of technical and leadership positions in Manufacturing, Validation, Technology Transfer and Engineering. I have Experience in both large molecule (vaccine manufacture – I made Coronavirus Vaccines for Dogs 30 years ago!) and small molecule (API, OSD & Sterile fill-finish) manufacturing operations.
Currently a member of Astellas' Global Engineering and Digital Transformation function, specialising in development and introduction of innovative technologies and Pharma 4.0.
How long have you been involved in the ISPE?
I have been a member of the ISPE for several years now, a Committee member since 2018 and Vice- president of ISPE Ireland Affiliate since 2020. I also founded the ISPE Pharma 4IReland group to address the challenges of introducing Industry 4.0 to Pharma/Biopharma industry.
What are the key challenges companies are facing in the application of Industry 4.0 to Pharma Manufacturing?
GxP requirements – many of the Industry 4.0 devices and Vendors aren't adapted or familiar with the requirements of Pharma.
SaaS – move to the Cloud is still relatively new for Pharma. Issues such as cybersecurity, GxP and perceived lack of control.
Change Management – Industry 4.0 is a paradigm shift in the way Pharma will operate in the future. This is going to be a big change management exercise from Top to Bottom.
Data – so much data, getting the right data, filtering out the noise, understanding it and applying it in a manner where it is useful and will result in better quality products at lower costs.
Has COVID-19 impacted on the deployment of Industry 4.0 technologies within the pharma sector?
Yes – both positively and negatively!
The positives are expedited introduction of new technologies – e.g. Smart glasses for Remote Audits, Remote support, etc.
The negative is everything is virtual – it's very difficult to introduce changes in a virtual environment. To successfully embed change we need face to face communications to build relationships, trust and confidence.
What are the key benefits that Pharma 4.0 will bring?
Right First Time – Quality will improve, there will be less risks of errors. Patients will benefit.
Productivity – quicker to perform tasks, get support, resolve issues etc. for example reduced changeover times, less downtime.
Training – better quality training, both off-line (VR) and on-line (AR/MR).
Overall, Pharma 4.0 will make peoples' working lives better and produce better products for our patients.
To find out more about the future of Pharma 4.0 from industry leaders – register for the event here today!
---
Event Agenda:
Date: Wed. 16th June.
Time: 14:00-15:30
Agenda:
14:00-14:05 Welcome and Introduction
14:05-14:40 "Digital Transformation – a Strategy, not a Project"
Presenters: John McKeon, CEO Gallarus & Walker D Reynolds, President and Solutions Architect at 4.0 Solutions and CEO Intellic Ingetration
A technical discussion on the four pillars" of IND/PHARMA 4.0 digital transformation and the integration "Holy Grail". The presentation will focus on the principal elements of architecture including the UNS (Unified Name Space), MQTT protocol & Historians with legacy systems integration at all levels of the ISA 95 Stack
14:40-15:10 "Digital & Technology: where do we need to be in 2030?"
Presenters: Terri O'Donovan (Digital & Technology Site Lead) and Tomás Connolly (Manufacturing Technician), Janssen
A vision is the first step of any change management model.  Janssen Sciences Ireland UC has developed a Site Digital & Technology team with a global reach and local focus.  This aligned high performing team will deliver the vision by introducing new technologies, scaling out current technologies and building capability for the workforce of the future.
15:10-15:30 Panel Discussion
15:30 Close.