LSC are partnering with Emerson in Ireland to resource the expansion of their Life Science projects teams and staff. We caught up with Simon Capewell, Engineering Manager for Emerson Ireland to discuss projects, people, technologies and career prospects for Life Science Automation Engineers!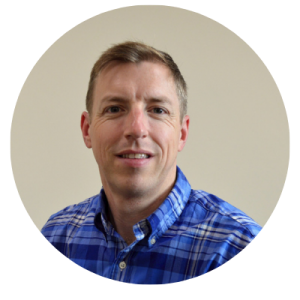 Can you give us an overview of your current role?
I'm the Engineering Manager for Emerson Ireland and an active member of the UK/Ireland Operations Senior Management team.
I started with Emerson in 1997 and have held various positions within the company. I've been in my current role since September 2020. I spent 12 years working as an independent contractor for several large Life Science customers, this has helped me gain expertise as both a supplier and a customer.
I'm responsible for ensuring we have the Engineering capability & capacity for the execution of projects in Ireland.  We currently have a team of approximately 115 engineers in Ireland working across 60 active projects.
In Emerson we are passionate about our people, I spend a lot of my day-to-day encouraging and developing our family of Engineers, to ensure they have the right skill-set for the future needs of our industry and customers.
Can you tell us what Emerson in Ireland are currently working on?
Ireland is recognised in Emerson as having expertise within the Life Science Industry. Any Life Science project in Europe that requires in-depth technical support, will reach out to our team of SME's in Ireland. We support projects in Austria, Switzerland, Belgium, France, Germany, Iceland and more.
The tragedy's that have evolved since the beginning of COVID-19 is truly heart-breaking. Emerson Ireland are proud to say that we are supporting the efforts to combat the pandemic by executing Biotech projects with our Life Science customers. Our products are used extensively in the research, development and production of the vaccines and other related medicines.
We are actively working with several Biotech customers on their journey to Digital Transformation(DT).  Both IoT and DT are key elements in the Life Science industry and Emerson are leading the way in the adoption of these technologies. Again it is through our role as a "Trusted Advisor" together with our award winning products that we are able to support and guide our customer on their Digital Transformation Journey.
Let's not forget about our installed base. We have many customers in Ireland that rely on Emerson to ensure their facilities are operating at 100% efficiency and are sustainable into the future. We support them by offering technology upgrades and managed services. We have developed strong partnerships within the Irish Life Science industry, through our commitment to our customers in both our products and services.
What type of People do well at Emerson?
We want to build a team that can capture the customer's vision, that elusive destination that the future demands. We need our team to travel on that journey with them. Today when we talk to customers about IoT and Digital Transformation – what we really mean is that we are in a partnership with them to help change the way the customer operates their facilities. You can only have these conversations if the customer trusts you.
We've got the technologies and the processes at Emerson but the most important thing we have, is our people. It is through our people that we are able to come together to create solutions for the benefit of our customers. It is through the trusted partnership of our people that enables us to bring customers on a journey from where they are now to where they want to be!
We are looking for Engineers who can adopt the mentality of doing things in a new way and have a fearless approach to problem solving. Those who can deal with the unknown, manage ambiguity and deliver the solutions to our customers problems.
Has Covid changed the skill-sets Emerson are looking for?
Our Personal Development Plans that we assign to every engineer are tailor made to fit the character and growth potential of the individual. We focus on a few core competencies – such as Customer Focus, Managing Complexities and Tech Savvy. This helps us develop the trusted advisors that we talked about earlier.
With the onset of the COVID-19 pandemic, we are finding that a lot of our customers are embracing the working from home model.  Site work is still taking place but this is restricted to essential workers only. Therefore our engineers have had to adapt and increase their communications skills. Many of our discussions now take place over a Microsoft Teams call and most of our team work remotely. Both of these scenarios makes it more difficult to build trust. Also ambiguity creeps in, as customer's are not always able to give us the right information at the right time.
This has really amplified the need for soft skills, the ability to communicate with the customers remotely, convey assurance as to where they want to go and negotiate without being in the room. By concentrating on these core competencies we are creating a world class team of trusted advisors for the Irish Life Science industry.
What Career Advice would you give to a graduate version of yourself?
The best way to learn is by doing!
I stand by the 70-20-10 framework for training which is ingrained in the Emerson culture.
(maintaining that 70% of knowledge comes from job-related experiences, 20% from interaction with others & 10% classroom) Don't wait to be trained in the classroom, put your hand up and volunteer to do jobs & get that exposure!
Your career development is your own responsibility, it is up to you to get to the next level. When an opportunity presents itself, it almost always won't match all your personal criteria or expectations. The job title might be wrong, the timing not ideal or it may be a horizontal move instead of a vertical move. But remember to give it a go, you'll be glad you did!

Is Career Development a priority at Emerson?
In Emerson we have the expertise, technologies and services to take on your toughest challenges and bring predictable success. This statement relies solely on our people. We have a passion for people and their development. It is at the core of everything we do.
For Emerson it starts with the recruiting process. We assess each candidate against core competencies. Once they accept the offer we onboard them and create a Personalized Development Plan (PDP). The plan combines their personal career growth aspirations with the many defined Emerson career plans. This PDP is then reviewed at various times throughout the year to ensure that the individual is on track. From day one the PDP offers a fully transparent agreement between Emerson and the individual  to ensure career development and future opportunities are realized.  If you look at our team you will see we have a great pool of talent that is growing in both numbers and experience. I've never been more excited about our future and the results this team can achieve!
Why choose a career in Life Science Automation in Ireland?
Ireland is at the forefront of the Life Science Industry, it has some of the best facilities in the world. It has great examples of the older Pharma API type plants but it also has several world-class Biotech single use facilities. We have an established Life Science culture & workforce; If you want to work in the Life Science Industry Ireland is the place to be.
If you choose a career in Life Science Automation and you are curious, hard working and not afraid of ambiguity, you will excel! Within a few years of working at Emerson you could excel to be a trusted advisor or SME to a multi-million euro Life Science facility that is producing medicines to cure the world's worst diseases of the 21st century. Now that is exciting!
It is a relatively small industry, with a concentrated talent pool.  If you give it a few years of your best, it will reward you with pride of place within our industry.
I don't know of any other industry that will give you more kudos that quickly! How's that for return on investment!
What's the best thing about being part of the Emerson team?
Number 1 is our people – Emerson invests in it's people and share a collective passion for diversity and inclusion. From our team of dedicated professionals, we produce some of the best technology in our industry. The technologies and products that we produce speak for themselves!
Take DeltaV Mobile for example, delivering an entirely new operational experience to improve performance and safety by having all the data at your fingertips, virtually, anywhere.
One of the best things about Emerson is we can say we built it. We not only execute projects and manage facilities, we also have a whole team of people making all these crazy, top of the range, tech stuff that does all these wonderful things!
In November 2020 , CBS News ran a story about COVID-19 vaccine breakthroughs. They discussed the Moderna and Pfizer vaccines that have both been developed in record time. They showed footage of the equipment used to manufacture the vaccines on a large scale. When you look carefully at the footage you can clearly see the Emerson products.
Emerson really are taking on our customer's toughest challenges – and bringing them success.
How can you not be excited about that?
Ready to join the Emerson Team?

If you're ready to join Emerson Ireland get in contact with Paul O' Driscoll at LSC today to discuss current opportunities or explore hot jobs below!
Email: [email protected]