If you're a recent Engineering or Science graduate we would love to know – Have you considered contracting as a career option? The Life Science industry is booming at the moment with thousands of contract job opportunities across the Pharmaceutical, Biotech and Medical Device Sectors.
Just take a look at the infographic to see the levels of activity and breadth of jobs across the country! (Pharma, Biotechnology & Medical Device job announcements 2017 – 2019. Source IDA Ireland.)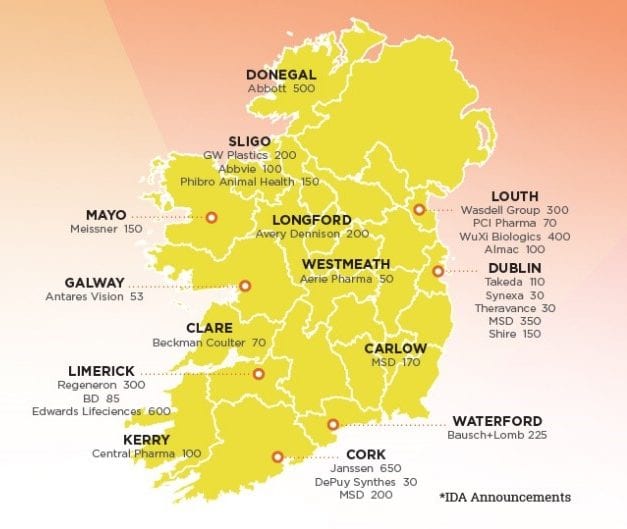 A popular career choice for Life Science professionals, contracting offers a more flexible lifestyle and exciting career path with the opportunity work on diverse projects with various teams. Let's look at this in more depth.
What does it mean to be a contractor?
There are different meanings associated with contracting but for now we'll refer to contracting with LSC as a Life Sciences contractor for simplicity's sake!
When you contract with LSC you work on projects based on client sites for a specified period of time unlike a permanent job where you are hired directly by and work for a company without a predetermined end date to employment.  LSC manage your payments, rate negotiations and work with you to extend your current contract or find your next challenge on a new project. As part of our Consultant Success Programme you will also have access to learning and development initiatives and a consultant care team to provide continuous support!
Why should I consider contracting in the Life Sciences sector?
Here are some of the key benefits of contracting in the Life Sciences sector:
Contracting is a great way for young professionals to

gain industry experience quickly

, giving you the opportunity to work on multiple projects with exposure to new technologies and all aspects of a project team.
Due to the temporary nature of project work and the demand for specific skill sets, contractors are paid

premium rates

to deliver project milestones.
Contracting

offers a great work-life balance

– allowing the flexibility to take time off or travel between contracts and the freedom to choose when and where you want to work.
Contracting gives you the opportunity to work with the most advanced technologies on the most

innovative projects

in the industry.
We are currently facing a skills shortage in Ireland as we see significant investment in the sector – experienced engineers and scientists who can help the industry to ramp up and meet project deadlines will be in

high demand

for the foreseeable future!
Is contracting for me?
Of course, contracting comes with drawbacks and permanent employees enjoy benefits such as benefits packages, more financial stability and clearer progression paths in comparison to contractors. (See a more in-depth view of pros and cons of contracting in our contractor info pack)
The decision to take up a contract position is really down to personal and career motivators. However, in this busy market it is definitely a path worth exploring!
At LSC we specialise in Life Science project resourcing and are seeing the opportunities for contractors continue to increase at a rapid rate as expansions and new projects are announced in the sector. Whether you're starting out in the industry or already have experience send us your CV to find out what contract opportunities are out there for you today!
Current Graduate opportunities:
Click the job Title for more info >>
Technical Writer – Pharmaceutical Industry – Cork based
Junior Validation Engineer – Pharmaceutical Industry – Cork based
Not what you're looking for? Send your CV to [email protected] and we'll keep you up to date with suitable opportunities as they come up!
---