The Recent Q3 review by IBEC shows the continuing strength of the Life Sciences sector in Ireland and its importance to the Irish economy
The Biopharmachem sector accounted for 55% of overall Irish exports of goods (excluding services) in 2017 (€67.8 billion, up 2% on 2016) *1 (see graph below). In the first eight months of this year (2018) versus the first eight months of last year (2107) the BioPharma sector has increased its goods exports by 25% (€11.6 billion). If this continues it will be a record year for Biopharma exports from Ireland.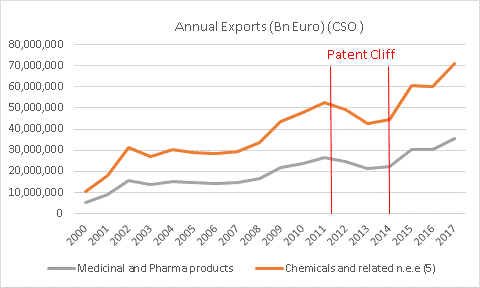 The IBEC report also shows that the sector invested €8.9 billion in physical capital assets and software (excluding IP) between Q1 2015 and Q2 2018. The total level of investment since mid-2015 has been double its almost linear trend for the eight years before that. (See Figure 3). This increase in investment represents both a move up the value chain in reaction to the patent cliff (2012-2014), but also a reaction to the 2015 global corporate tax reforms introduced at the OECD and the global drive to build capacity in the Biotech supply chain.
The report also calls on the government to avoid complacency. While a lot of the economic indicators are very positive there are a number of concerns highlighted including rising wages, increasing cost of doing business and a tight labour market. The IBEC report also noted that in the first half of 2018 global FDI flows fell by 41% compared to the same period in 2017. Most of this was driven by a slowdown in US investment abroad.
Overall these numbers point to a buoyant and successful few years ahead for the BioPharma sector with continued growth and job expansion
If you would like to find out more about opportunities in the sector contact us today!